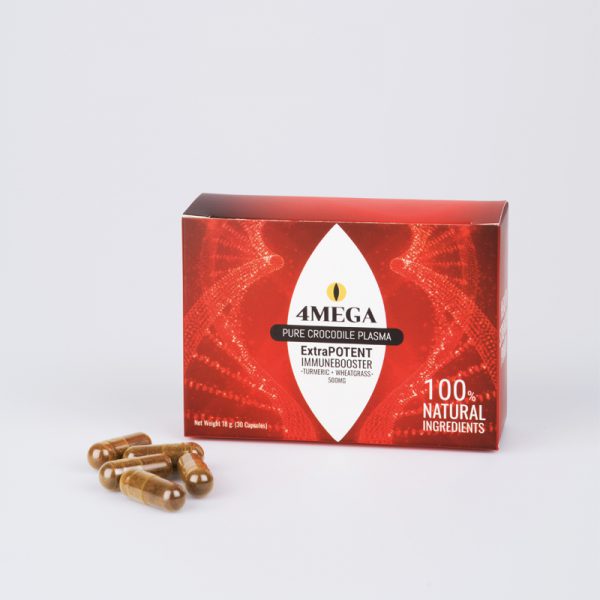 4mega Superfood
$49.00
4MEGA's Crocodile plasma superfood ExtraPotent Immunity Booster contains over 70 vitamins and minerals such as vitamins A, C, E, B1, B2, B3, B5, and B6, as well as biotin, folic acid, calcium, phosphorus, potassium, zinc, iron, and magnesium. Not only that, wheatgrass contains hundreds of metabolic enzymes, and supplies over a dozen amino acids.
Description
Additional information
Description
The crocodiles' plasma serum killed all 23 bacteria cultures, including MRSA. It also significantly reduced the overall level of HIV in a sample of infected human blood.
(Merchant et al. 2003. Comp Biochem Physiol. B:136. 505-513.)
​
The crude crocodile plasma significantly showed antibacterial activities of mostly over 40% growth inhibition. Crocodiles have serum in their blood that acts as a powerful antibody, which means they can effectively fight off almost any bacteria.
(Kommanee et al. 2012. Ann Clin Microb. 11:22. 1-8.)
​
Crocodile plasma and serum significantly enhanced cell proliferation and migration during wound closure.
(Jengpromma et al. 2016. J Microbiol Biotechnol. 26:6. 1140-1147.)
Curcumin's effects on the invasive capacity of the androgen-independent prostate cancer cells (DU-145). After 24 hrs of treatment with 10 µg/ml dose of curcumin, invasive ability was determined to have decreased by 71%, compared to the control. (Hong et al. 2006. Prostate Cancer and Prostatic Dis. 9: 147-152.)
​
Turmeric extract showed cytotoxic and dose dependent inhibitory effects on human breast cancer cells MDA-MB-231 with less effect on normal cells.
(Ahmad et al. 2016. Int J Botany Stud. 1:1. 1-6.)
​
The great majority of the curcumin and turmeric extract are strongly cytotoxic against all cell line of human hepatocellular liver carcinoma when compared to doxorubicin; anti-cancer chemotherapy drug. (Naama et al. 2010. Afr J Pure Appl Chem. 4:5. 68-73.)
Maltoheptaose isolated from wheatgrass as an immunostimulatory component that induces TLR-2 signaling in monocytes to systematically increase immune activation.
(Tsai et al. 2013. J Biol Chem. 288:24. 17689-17697.)
​
Wheatgrass extract has an inhibitory effect on the oral cancer cell line proliferation.
(Gore et al. 2017. J Clin Diagn Res. 11:6. 40-42.)
​
The juice of wheatgrass shows significant effect on the improvement of hemoglobin level in 21 days therapy. It shows highly sighnificant effect on the hemoglobin level in those subjects, whose hemoglobin level were below normal limits.
(Bhikaji et al. 2015. Int J Ayur Pharma Research. 3:7. 66-70.)